As I reflect on the 100 days since I took the Oath of Office to become your representative in the California State Assembly, I am humbled by the opportunity to be an advocate for the people of Assembly District 51. In this newsletter, I hope to keep you updated on some of the work my staff and I are doing on your behalf in the District and in Sacramento.
Sincerely,

Rick Chavez Zbur
Assemblymember, 51st District
---
2023 Legislative Bill Package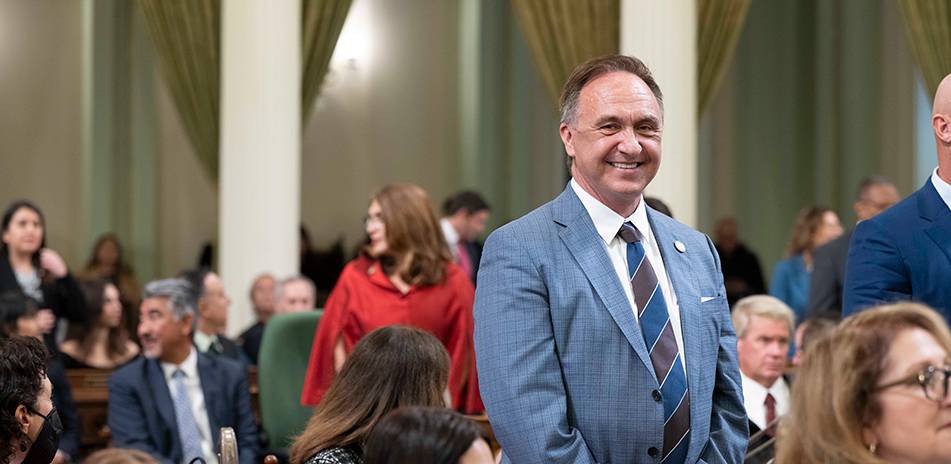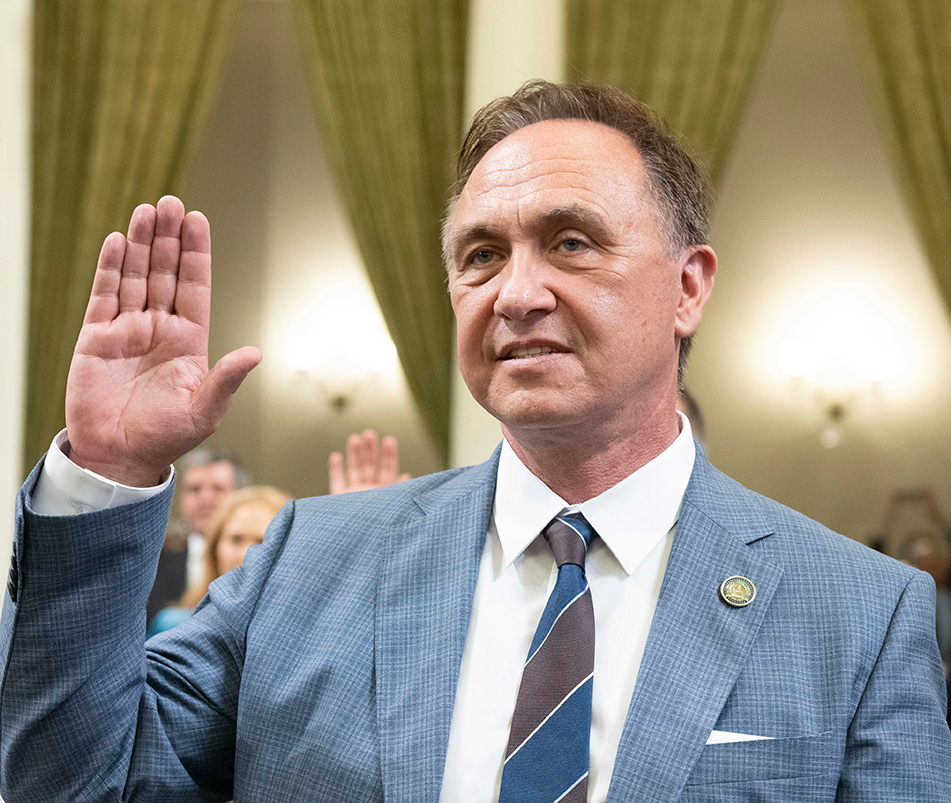 Asm. Zbur at swearing-in ceremony on the California State Assembly Floor
Since taking office, I have introduced bills focusing on several of my top priorities, including climate change, housing and homelessness, and social justice and LGBTQ+ civil rights, among other things. Here is a quick description of my key proposals.
Climate Change
AB 3: California Offshore Wind & Jobs Advancement Act
Offshore wind energy will play a crucial role in meeting California's goal of achieving 100% renewable energy by 2045 and has the potential to create a significant number of high-paying jobs in the state. AB 3 requires the California Energy Commission to study and recommend strategies maximizing job opportunities for the state and creating pathways for developing port infrastructure to achieve our climate change goals through offshore wind energy. Moving off of dirty fossil fuels to tackle the climate crisis requires that we do everything we can to build offshore wind to meet our energy needs. Sponsor: Environment California
AB 1176: Requiring Local Climate Action and Electrification Plans
In order to meet the state's climate goals, Californians will need over one million vehicle chargers to support the eight million electric vehicles anticipated on the road by 2030, and more to meet the state's 2035 electric vehicle mandate. Residential and commercial buildings will also need upgrades and retrofitting and installation of electric appliances and equipment to cut greenhouse gas emissions. Ensuring that electric chargers are available for lower-income communities, renters, and people who live in multi-family housing, and that charging and transmission infrastructure is sufficient to support truck and vehicle delivery fleets and small businesses, requires deep knowledge of these communities and the on-the-ground expertise that local governments have to develop strategies, policies and programs to meet our climate goals. AB 1176 requires local governments to adopt a Climate Action Electrification Element with strategies and goals in their General Plans to meet the needs of residents, visitors, employees, and businesses in their communities. The bill requires consideration of and planning for on-street electric vehicle charger corridors and electrification funding strategies for disadvantaged communities. Sponsor: ClimatePlan California
AB 1181: Building Energy Resilience for Multi-Family Affordable Housing
Combining solar power and battery storage is important for creating energy resilience and reliability. The Solar on Multifamily Affordable Housing (SOMAH) program and the Self Generation Incentive Program (SGIP) incentivize solar and battery installations for low-income residents, but battery storage is vastly under-utilized. AB 1181 reduces barriers to battery installation for SOMAH participants and modifies technical requirements of the program to expand eligibility for certain extremely-low-income residents. Overall, this bill will reduce electricity costs for people living in affordable and multi-family housing. Sponsor: California Housing Partnership
Housing and Homelessness
AB 1431: The California Housing Security Act
California is home to at least 170,000 people experiencing homelessness – a staggering and disproportionate figure that amounts to 30% of the nation's homeless population. Roughly 64% of low-income households are rent-burdened, putting them at high risk of displacement due to an inability to afford basic needs. Preventing homelessness is more cost effective and more compassionate than intervention once someone is already experiencing homelessness. AB 1431 will reduce homelessness by helping the most housing insecure Californians remain in their homes when they are facing challenging economic times. It furthers California's commitment to putting housing first by providing short and medium term rent subsidies to the most housing insecure populations, including older adults, adults with disabilities, people experiencing unemployment or homelessness, former foster youth, and recently incarcerated people, without regard to immigration status.
The bill requires the California Department of Housing and Community Development to establish a two-year pilot program (the California Housing Security Program) in up to four counties across the state – spanning northern, southern, and central regions, taking into account urban, rural, and suburban representation – to develop criteria for and provide housing subsidies to Medi-Cal eligible populations as listed above. Sponsor: City of Santa Monica
AB 1620: Apartment Swaps for Tenants with Permanent Physical Disabilities
People with physical disabilities who are living in rent controlled apartments are at risk of becoming homeless if they become unable to access their home and cannot find a ground floor unit at a similar rental rate. AB 1620 will address this problem by authorizing local jurisdictions to require that tenants with permanent physical disabilities be allowed to relocate to an available ground-level unit at the same rental rate and terms. Sponsor: City of West Hollywood, City of Santa Monica
AB 369: Independent Living Program for Foster Youth
Young people aging out of the foster care system frequently experience homelessness. AB 369 brings California in line with 30+ other states by increasing the age for foster youth to receive support through the Independent Living Program from age 21 to 23. The bill also clarifies that young adults are allowed to accumulate cash savings while in extended foster care, better equipping them to successfully transition into independent adulthood. Sponsors: California Coalition for Youth, Alliance for Children's Rights, and Children Now
AB 1335: Regional Housing and Sustainability Planning
In order to meet their local housing needs and ensure that development is sustainable, regional authorities undertake extensive planning through the Regional Housing Needs Allocation (RHNA) program and the Sustainable Communities Strategies (SCS) program. However, the RHNA and SCS programs rely on inconsistent data and assumptions. AB 1335 requires planning and reporting for sustainable housing development to be more transparent and makes clarifying changes so that housing and sustainability goals under the RHNA and SCS programs are better aligned. The bill will incentivize sustainable housing near transit to reduce our reliance on cars. Sponsor: Abundant Housing LA
Civil & LGBTQ+ Rights
AB 5: Safe & Supportive Schools Act
Every child deserves to attend a safe and supportive school where they have the greatest possible opportunity to learn and succeed. Despite much progress, LGBTQ+ students still experience harassment, violence, and lack of affirmation in school settings far too often. These experiences can harm LGBTQ+ students' school performance and success, self-esteem, and mental health and can reduce their desire to pursue post-secondary education. Lack of adequate support in schools results in high dropout rates, which leads to high rates of poverty, homelessness and engagement with the criminal justice system for LGBTQ+ people. AB 5 will provide public school teachers and staff, who are on the front lines of supporting California students, with the training and support they need to better serve LGBTQ+ and all students. Sponsors: California State Superintendent of Public Instruction Tony Thurmond, Equality California, CFT
AB 1484: Bargaining Rights for Temporary Employees
The ability of workers to bargain for basic workplace rights and protections is a bedrock value in our state. Temporary employees are a vital part of the public workforce for many local governments and are often employed for long periods of time, yet they are often not allowed to bargain alongside their permanent coworkers for good wages, benefits, and working conditions. AB 1484 provides temporary employees of cities and counties the option to join existing bargaining units, providing them with basic workers' rights without significantly increasing costs or limiting the employer's ability to hire temporary workers as needed. Sponsors: SEIU California, California Labor Federation, AFSCME
AB 383: Improving the Classified School Staff to Teacher Pipeline
This bill will reduce California's current teacher shortage by helping classified school employees become fully credentialed teachers. It allows participants in the state's Classified School Employee Teacher Credentialing Program to use funds received through the Program to cover their living expenses while in training and enhances their ability to take leave so that they can accomplish their training. Sponsor: CFT
AB 1645: Enhanced Consumer Protections for Preventive Care
Every Californian deserves access to preventive health care that is comprehensive, inclusive, and affordable. Current California law relating to preventive health care and screenings for sexually transmitted infections (STIs) contains loopholes that need closing. AB 1645 ensures that patients can access not only preventive care but also all of the services and office visits that are necessary for delivering that care without cost-sharing, including medication management and lab testing for PrEP, a life-saving HIV prevention medication. On March 30, 2023, a federal judge in Texas struck down national protections for preventive care benefits under the Affordable Care Act in Braidwood Management Inc. v. Becerra. Under AB 1645, there will be no question that HIV PrEP and all the necessary care for delivering this life-saving medication, including lab tests and STI screening, will remain covered without cost sharing. Sponsors: California Insurance Commissioner Ricardo Lara, APLA Health, San Francisco AIDS Foundation, Los Angeles LGBT Center, Equality California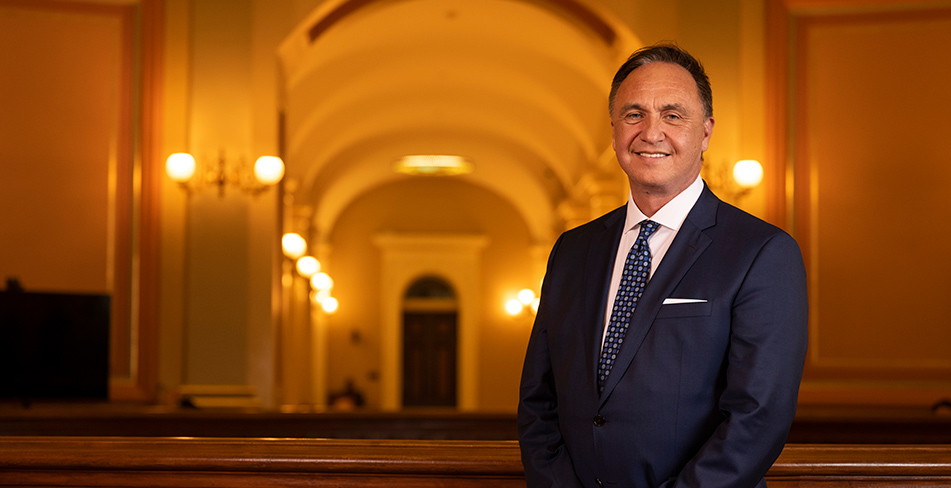 I very much value any and all feedback on community needs and legislation. Please visit my contact page to share your comments and stay in touch.
Looking For Other Ways to Connect?
---
Committees, Boards and Caucuses
The Speaker of the Assembly has appointed me to serve on the following Committees:
Environmental Safety & Toxic Material
Natural Resources
Public Safety
Revenue & Taxation
I also serve on the following Select Committees and Boards:
CA Lithium Economy
Electric Vehicles & Charging Infrastructure
Fentanyl, Opioid Addiction & Overdose Prevention
Los Angeles County Homelessness
Offshore Wind Energy in CA
Racism, Hate & Xenophobia
Reproductive Health
Social Determinants of Health
Wildlife Conservation Board
Additionally, I am proud to be a member of a number of legislative caucuses, including:
Armenian Caucus
Environmental Caucus
Jewish Caucus
Latino Caucus
LGBTQ+ Caucus
Los Angeles County Delegation
Mental Health Caucus
Native American Caucus
Progressive Caucus
Rare Disease Caucus
Tech Caucus
Women's Caucus
---
District Activities
Supporting Affordable Housing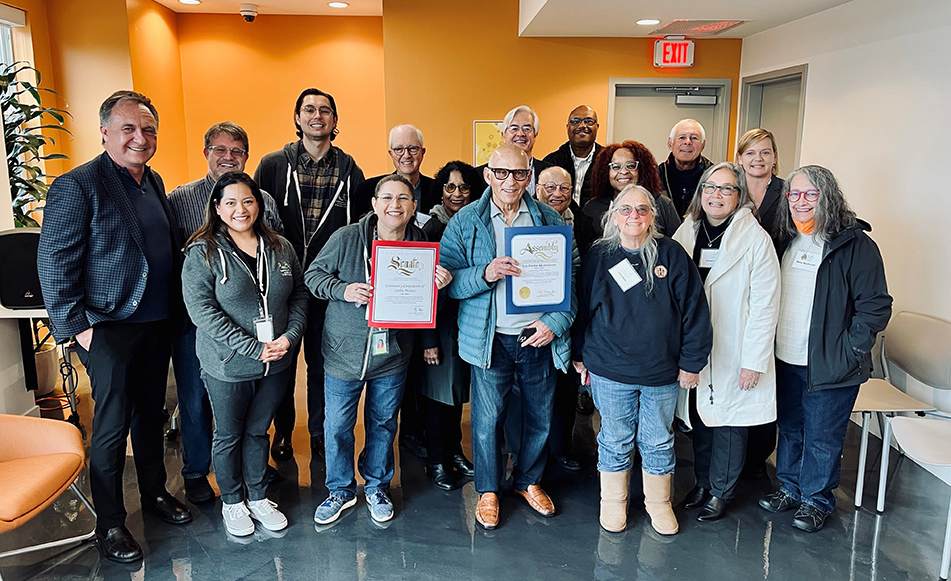 Asm. Zbur attends the grand opening of the Las Flores Apartments, a newly built all-electric affordable housing complex on Friday, March 10, 2023.
I recently celebrated the opening of Community Corporation of Santa Monica's Las Flores Apartments, a new, all-electric affordable housing complex in the City of Santa Monica. Las Flores is a beautiful addition to the neighborhood and serves as an example of the type of affordable housing that our district and California needs.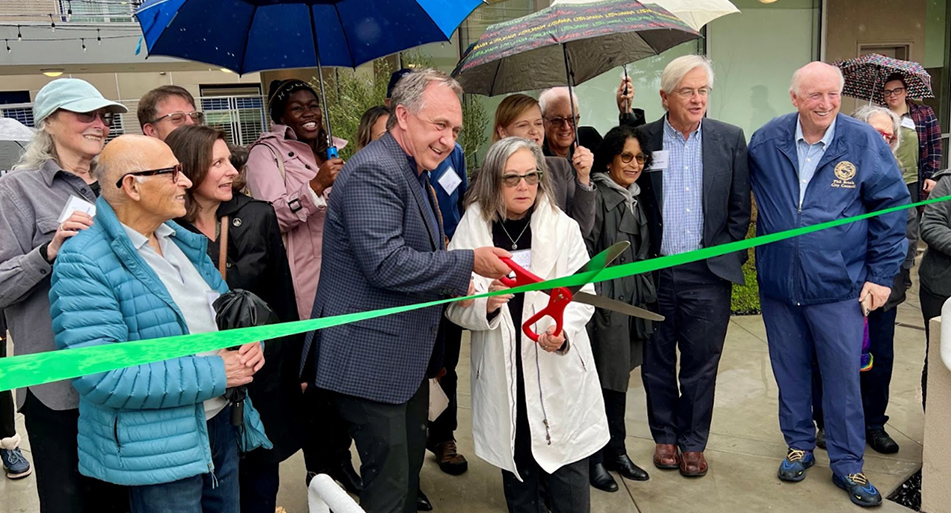 Asm. Zbur with Santa Monica City Mayor Gleam Davis during a ribbon cutting ceremony on Friday, March 10, 2023.
Improving Santa Monica Boulevard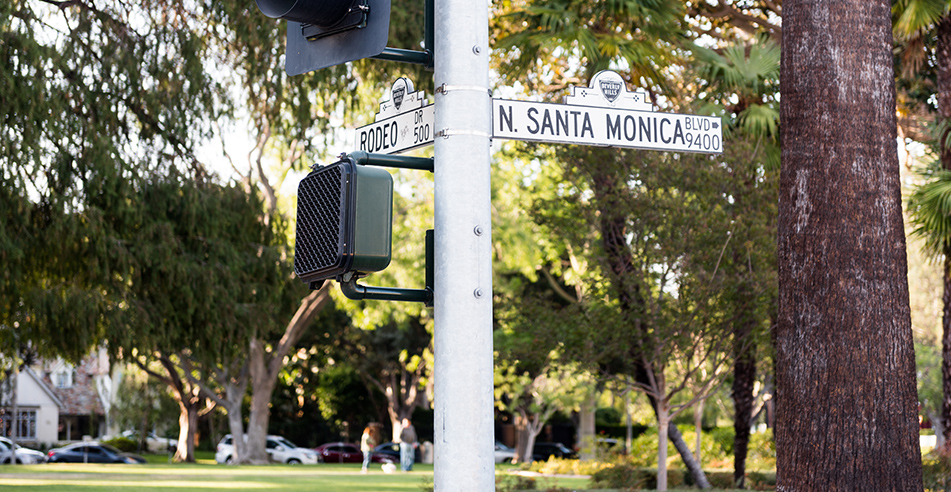 I have also sent a letter urging Caltrans to fund a safety study of Santa Monica Boulevard.
If Santa Monica's grant application is approved, the city will have the funding needed to further understand current safety issues for all users of the Boulevard.
Protecting CA Film Industry
Additionally, I've had the chance to meet with the Motion Picture Association and tour studios around the district. District 51 is home to four major motion picture studios. I am working with other Los Angeles lawmakers to support the Film Tax Credit, which keeps jobs local and preserves this important industry in California.
---
Combating Hate & Protecting Public Safety

Asm. Zbur speaking at Holocaust Museum Los Angeles on International Holocaust Remembrance Day Thursday, January 26.
Fighting hate in all forms is a moral imperative. Recent events in the region and beyond have highlighted the need to take an active role in that fight. I have met with Jewish Community leaders in our district to discuss approaches to combating antisemitism and improving community safety.
It was an honor to speak at the Holocaust Museum LA on International Holocaust Remembrance Day as well as Women's International Zionist Organization's Annual Luncheon recently and reaffirm my commitment to combating antisemitism and supporting the Jewish community. Earlier this year, anti-Armenian flyers were posted in Beverly Hills. I joined my colleagues in the city in condemning anti-Armenian hate, and I signed a letter to President Biden urging him to provide humanitarian assistance to the 120,000 Armenians living in Artsakh and to help end the genocidal campaign against them.
I have also had the pleasure of meeting with and learning from community leaders representing the diversity of our district, as well as attending events like the Dr. Martin Luther King Jr. Day Commemoration in Santa Monica.
We've also come together as a community in difficult times. When two antisemitic shootings shocked and terrified the community, I attended an important town hall organized by the Jewish Federation. I continue to work with community partners, law enforcement, and other agencies to provide the resources needed to keep our community safe.
Finally, I am working with Equality California and other LGBTQ+ leaders and organizations in Sacramento and District 51 to ensure our most vulnerable populations are protected from attacks attempting to take away their health care and their individual rights and freedoms. As the nation faces a wave of legislation attacking the transgender community, California leadership must work to protect everyone and the spaces where we live, work and learn. That's why I was proud to introduce AB 5, the Safe and Supportive Schools Act, which creates a safe and welcoming environment for LGBTQ+ students and others by providing diversity training that teachers need and want.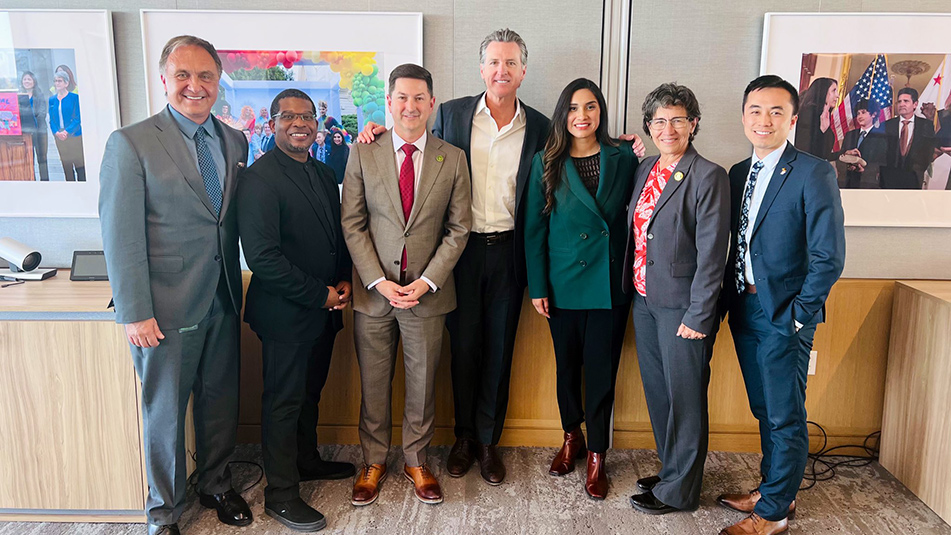 Members of the California Legislative LGBTQ Caucus meet with Governor Gavin Newsom Thursday, April 20. (From Left: Asm. Zbur, Asm. Corey Jackson, Asm. Chris Ward, Gov. Gavin Newsom, Asm. Sabrina Cervantes, Sen. Susan Talamantes Eggman, and Asm. Alex Lee.
---
Constituent Services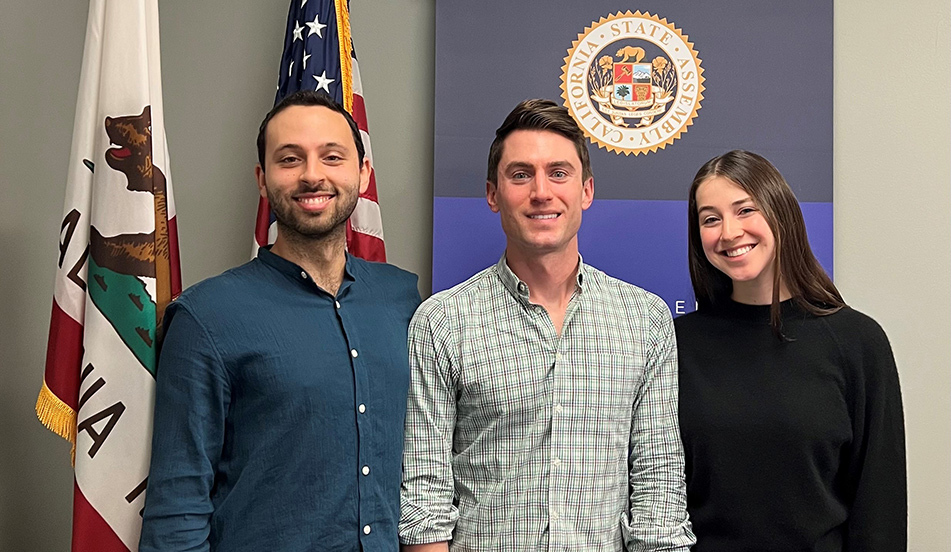 From left: Field Representative Sherwin Shamoeil, District Director Robert Oliver, and Field Representative Hannah Wenger.
My office is here to help constituents with issues related to state agencies. For example, we can assist when a resident needs help contacting the Employment Development Department (EDD), has a complicated DMV case that requires escalation, or would like to check the status of a license. Though we cannot promise an outcome or overturn department decisions, we will always act as constituent advocates and ensure every case gets the attention it deserves. To date, our office has assisted over 200 constituents with state agencies and resources.
Please reach out to my office for assistance at (323) 436-5184 if we can be of service. You can also reach out directly to a member of my district staff:
We have a beautiful and diverse district, and I look forward to getting to know and work with each and every one of its vibrant neighborhoods. It is truly an honor and a privilege to serve the residents of AD-51, and I look forward to continuing our work together.
---
My Swearing-In Ceremony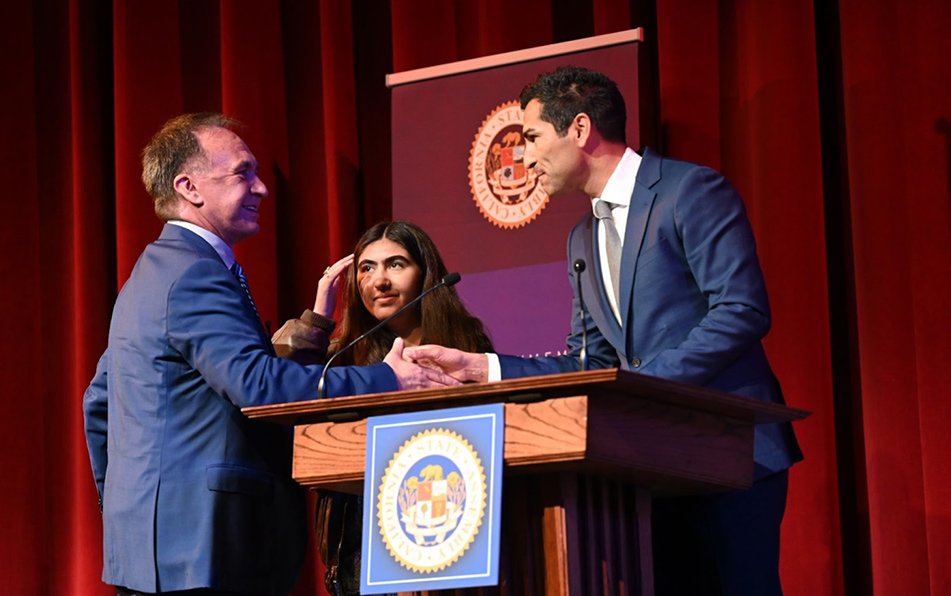 Asm. Zbur is sworn into office by Speaker-Designate Robert Rivas as Asm. Zbur's daughter looks on, Saturday, January 21.

Asm. Zbur stands with community leaders during his swearing-in ceremony Saturday, January 21.
---
EQCA Equality Awards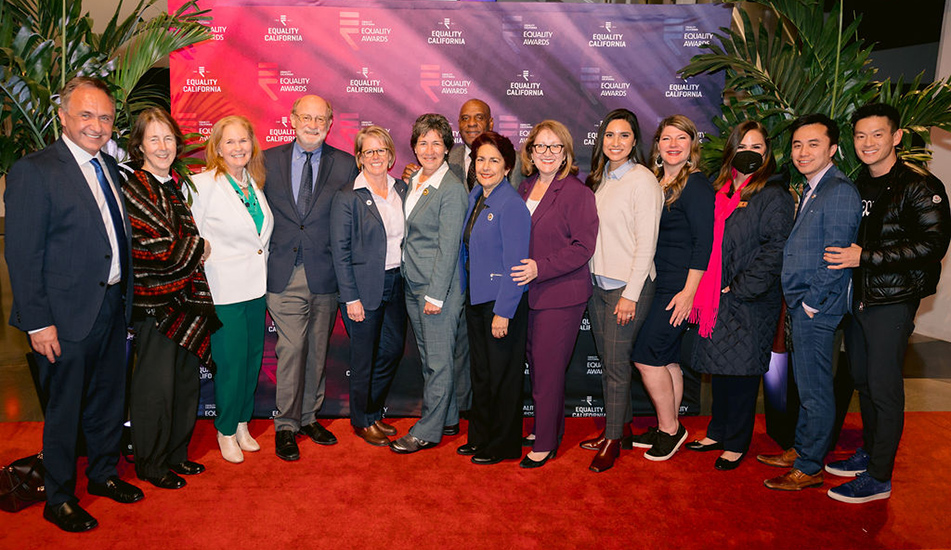 LGBTQ+ and allied lawmakers at the Equality California (EQCA) Equality Awards Sacramento Wednesday, February 22. From Left: Asm. Zbur, Sen. Nancy Skinner, Asm. Gail Pellerin, Sen. John Laird, award honoree Christy Bouma, Sen. Susan Talamantes Eggman, Sen. Steven Bradford, Sen. Anna Caballero, Asm. Eloise Gomez Reyes, Asm. Sabrina Cervantes, Asm. Tasha Boerner, Asm. Esmeralda Soria, Asm. Alex Lee, Asm. Evan Low.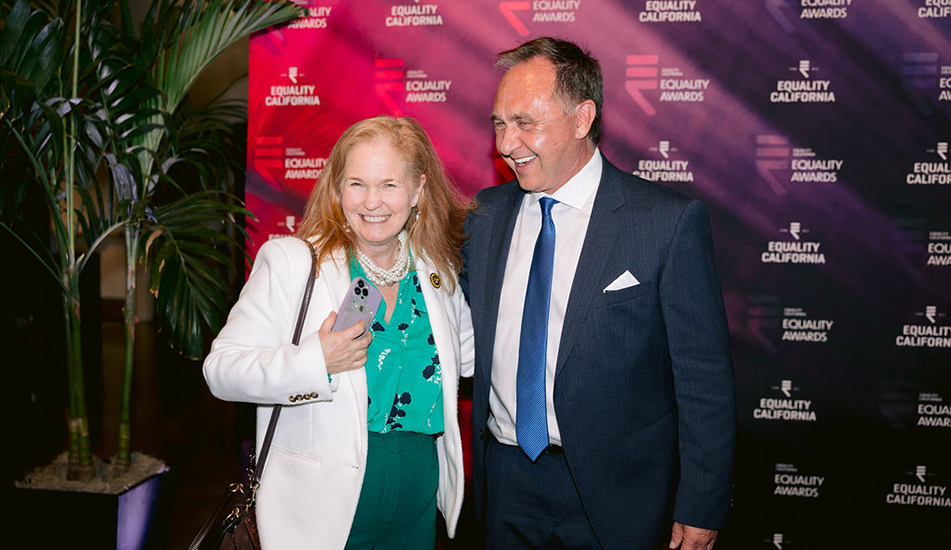 Asm. Gail Pellerin and Asm. Zbur; Wednesday, February 22.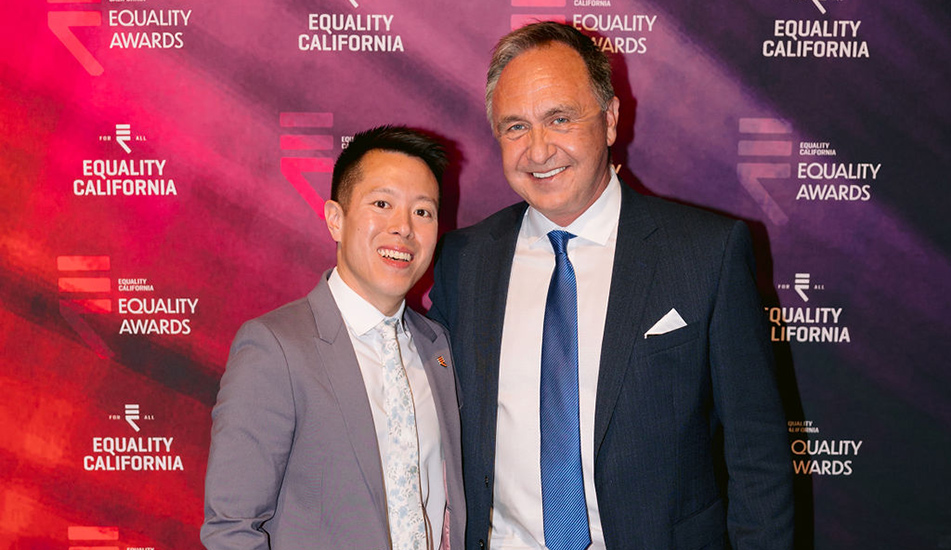 Equality CA Exec. Dir. Tony Hoang and Asm. Zbur; Wednesday, February 22.
---
Jewish Federation Gathering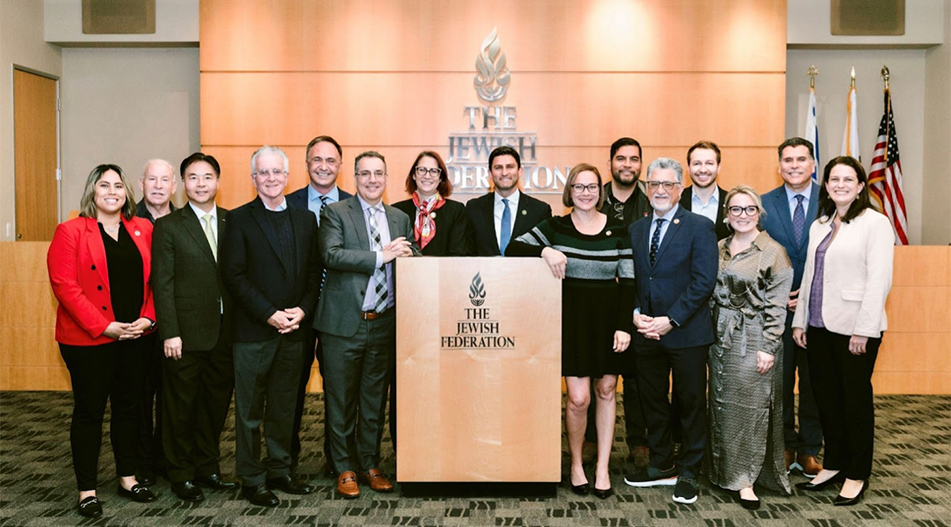 Asm. Zbur joins elected officials from every level of government at the Jewish Federation on Thursday, January 19.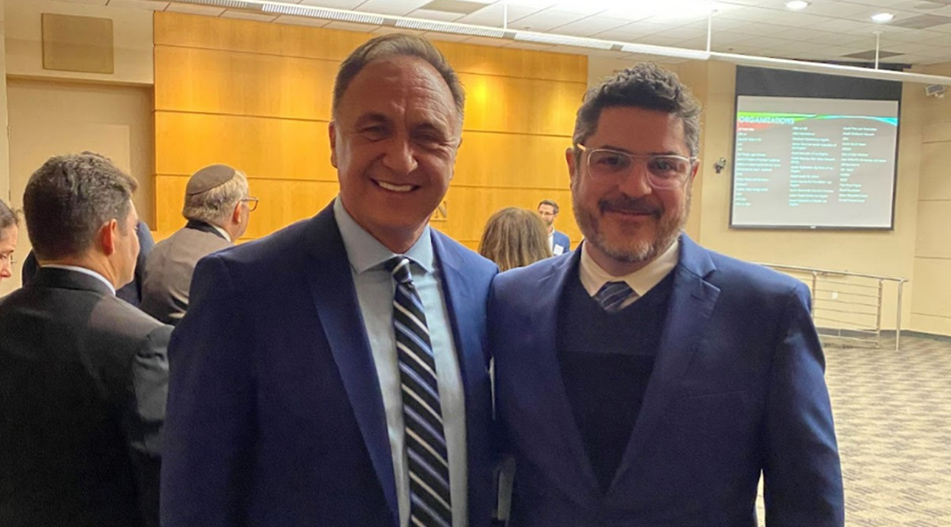 Asm. Zbur joins Rabbi Noah Farkas, President & CEO of the Jewish Federation of Los Angeles.
---
Women's International Zionist Organization Luncheon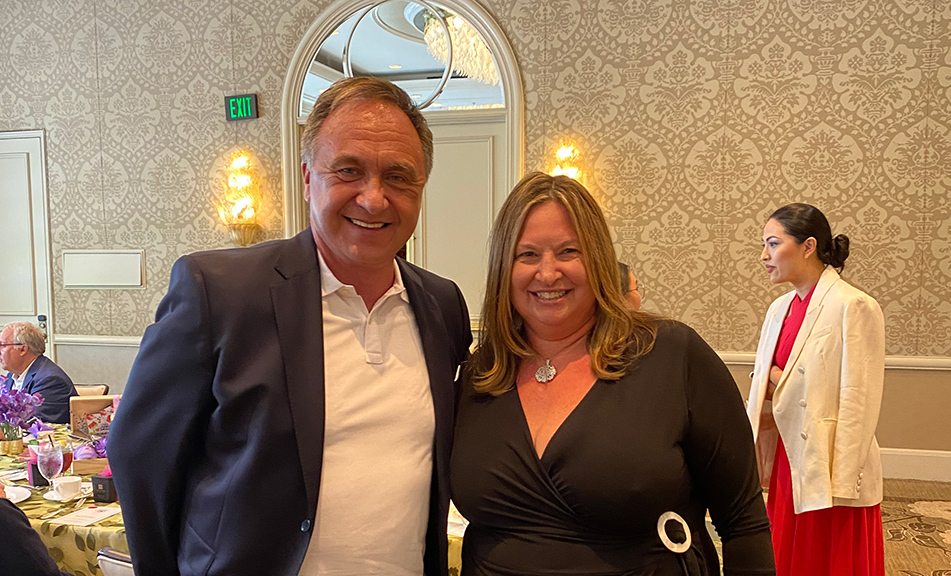 Asm. Zbur joins Gina Rafael, Women's International Zionist Organization Luncheon (WIZO) Los Angeles Chair, at the WIZO Luncheon on Sunday, March 5.
---
Woman of the Year, Abbe Land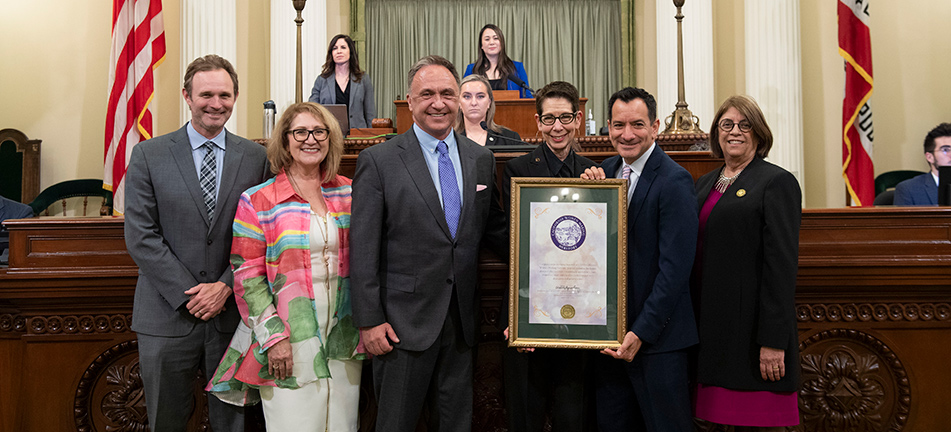 Asm. Zbur introduces Abbe Land as District 51's Woman of the Year Monday, March 20.
I was pleased to announce Abbe Land as Woman of the Year for the 51st Assembly District. It was an honor to present her many achievements on the Assembly floor. In the last 35 years, Land has tirelessly served West Hollywood and the broader region of Los Angeles County. Prior to serving as a Chief Strategist for the Los Angeles County Department of Human Resources, she served as the Executive Director of the Los Angeles County Women and Girls Initiative and the Executive Director and CEO of the Trevor Project; the former dedicated to changing the lives of women and girls through changes in policy, the latter a nationally recognized non-profit providing crisis and suicide intervention services to the overlooked and traditionally underserved LGBTQ+ youth.
In addition, Land was elected West Hollywood mayor five separate times, serving 1986-1997 and 2003-2015. She is recognized for her support on women's issues, reproductive and traditional health care rights, and LGBTQ+ issues, and affordable housing.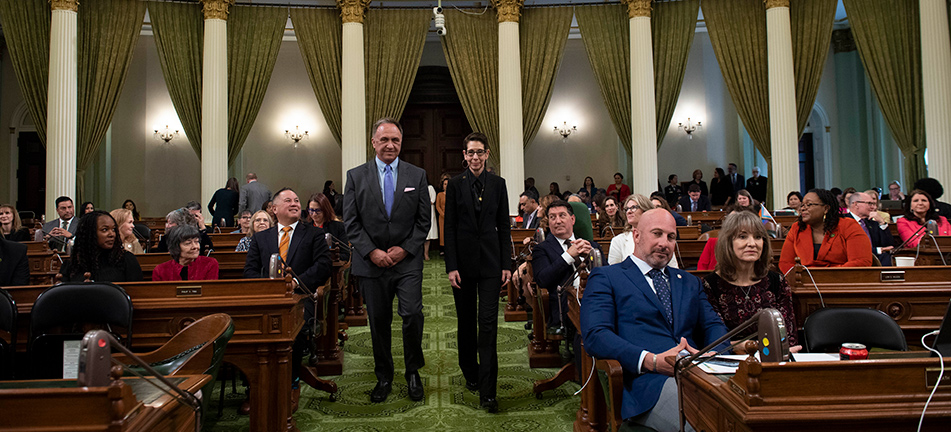 ---
Yom HaShoah Commemoration
Asm. Zbur honors LA Holocaust Museum CEO Beth Kean during the Jewish Caucus Federation's Yom HaShoah Commemoration Monday, April 17.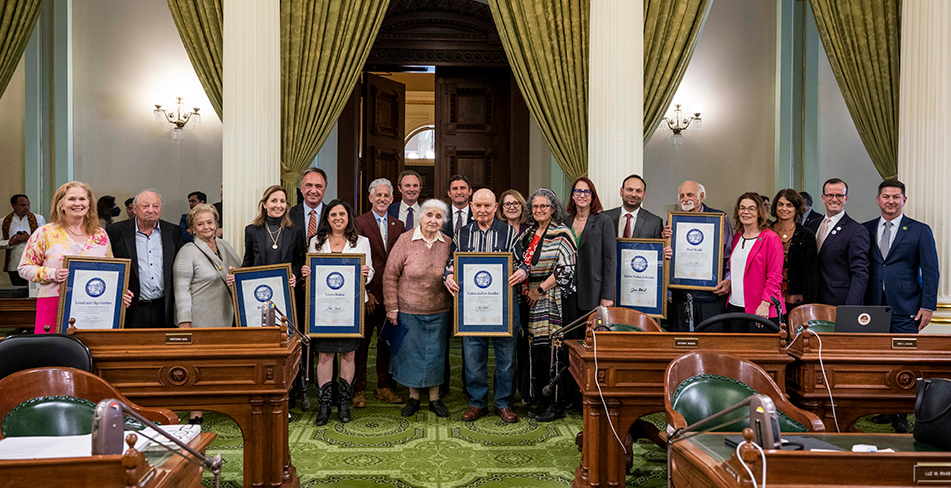 Standing with LA Holocaust Museum CEO Beth Kean and other honorees during the Jewish Caucus Federation's Yom HaShoah Commemoration on Monday, April 17.
---
Los Angeles Children's Hospital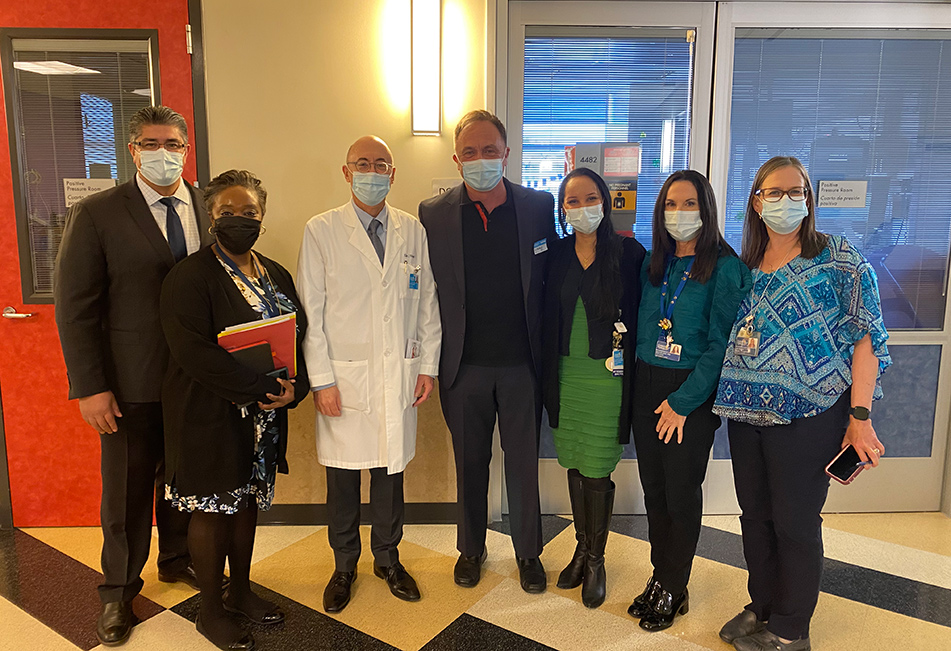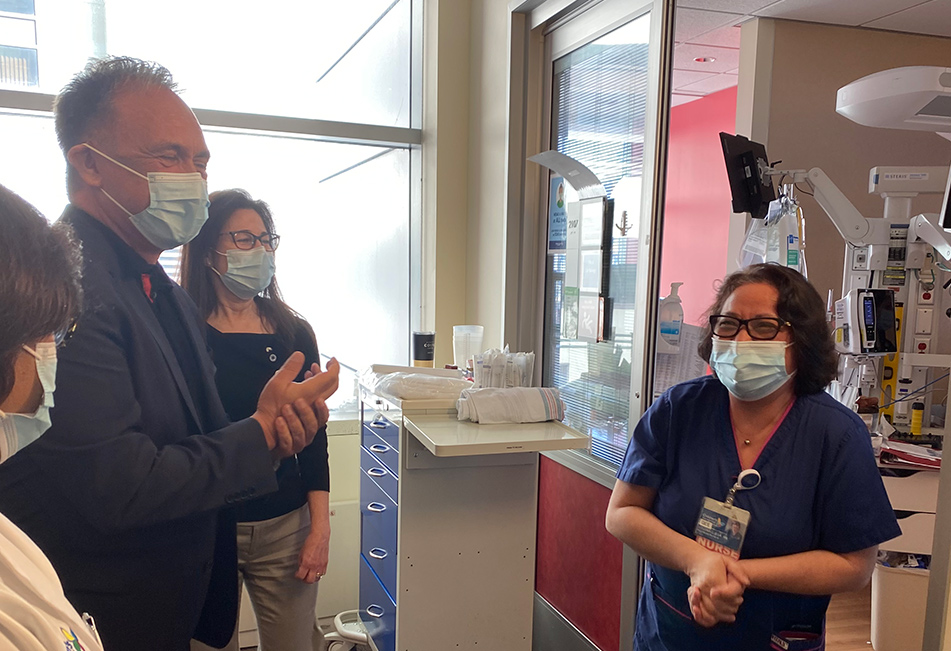 Asm. Zbur meeting with physicians, nurses and administrators at LA Children's Hospital Friday, March 17.
---
UCLA Lab School Teachers Strike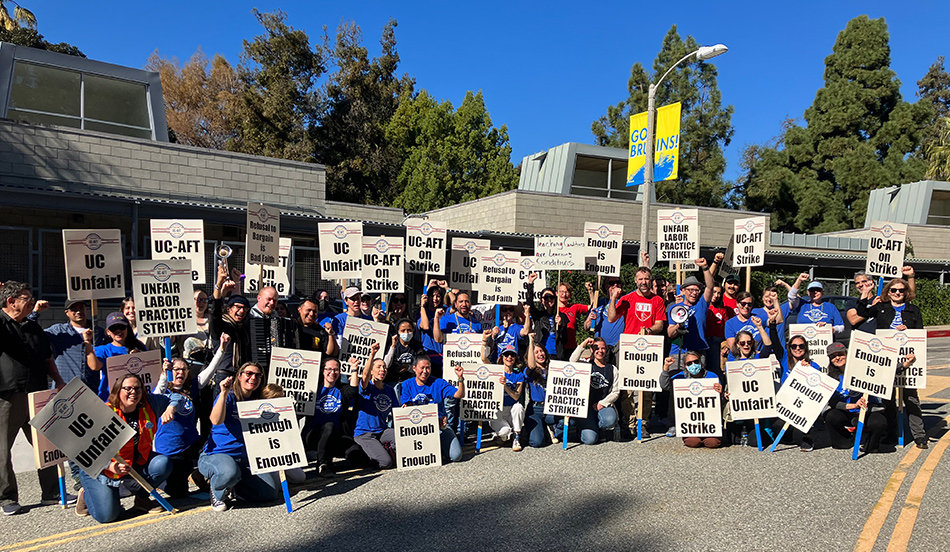 Office of Asm. Zbur joins educators organizing at UCLA Lab School on Wednesday, January 25.
---
Southern California Armenian Democrats Dinner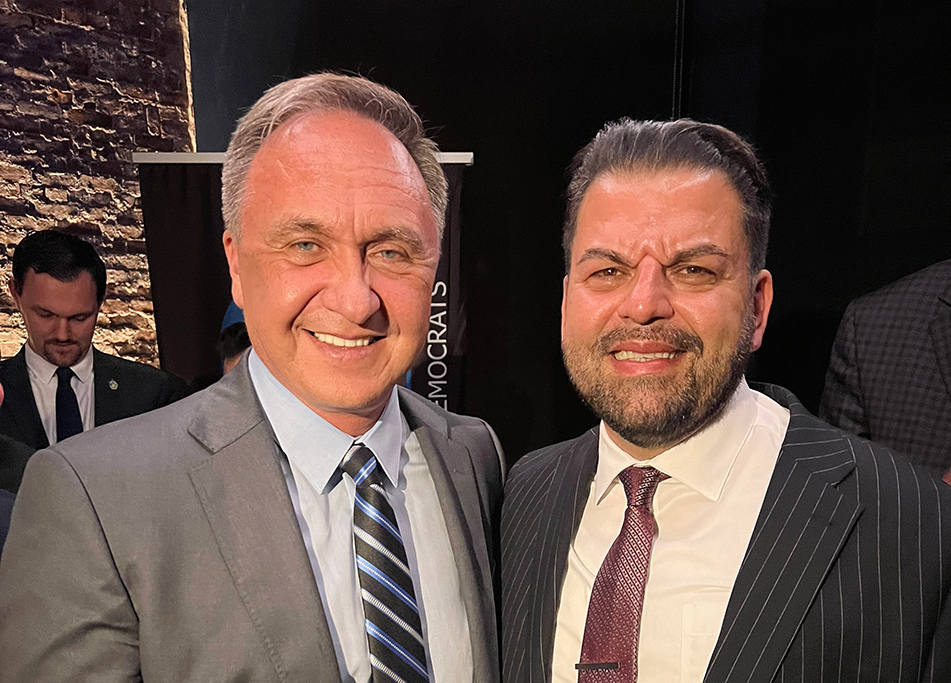 Asm. Zbur next to SCAD Founder and Honorary Chair Armond Aghakhanian on Thursday, March 23.
---
LA Family Housing Awards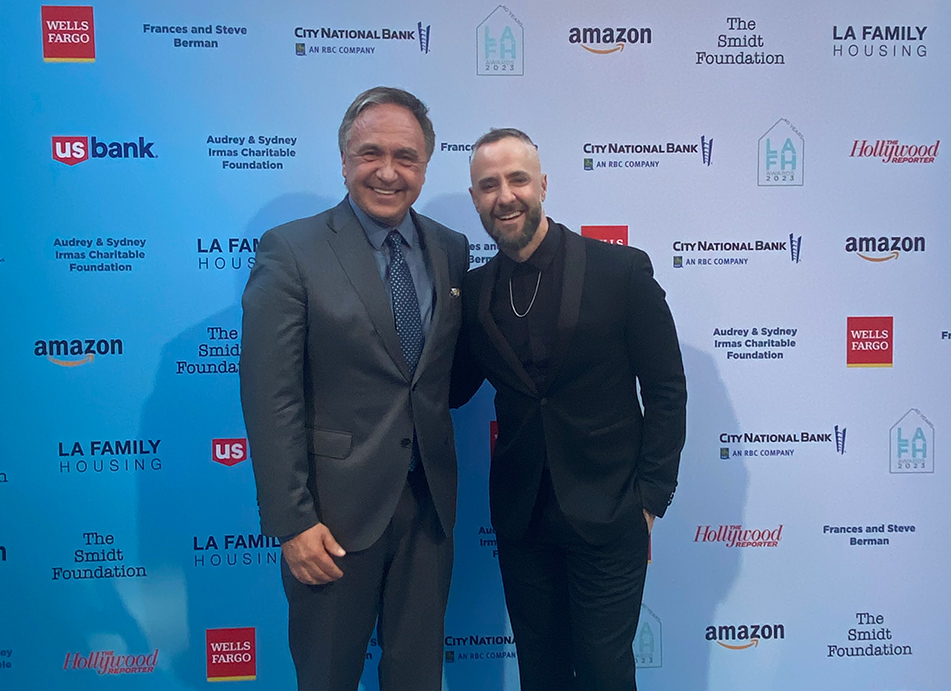 Asm. Zbur and LA Family Housing Awards Honoree David Ambroz at the LA Family Housing Awards Thursday, April 20.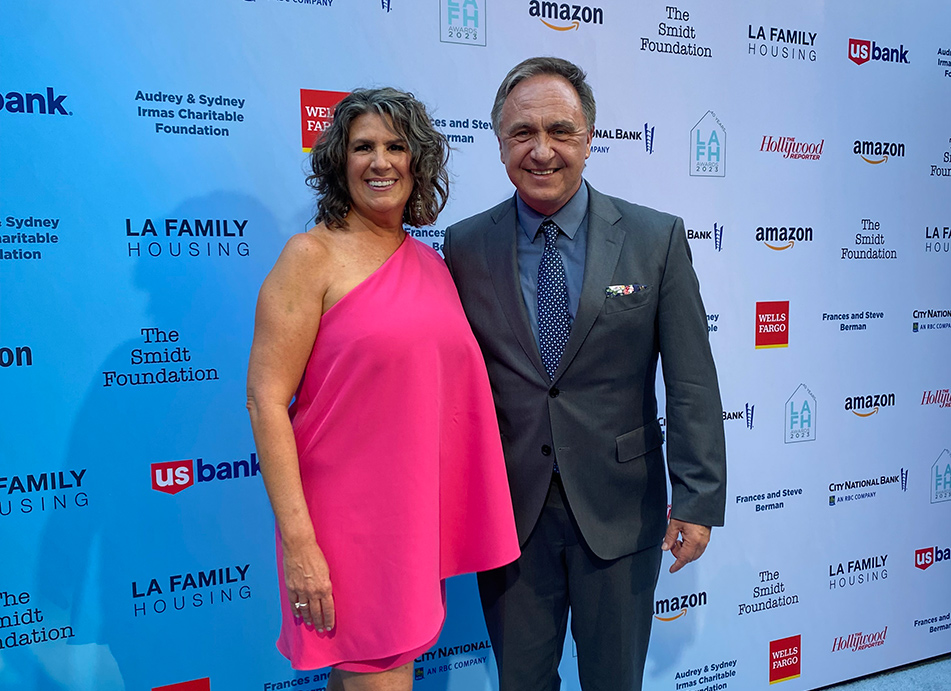 Asm. Zbur and LA Family Housing CEO and President Stephanie Klasky-Gamer.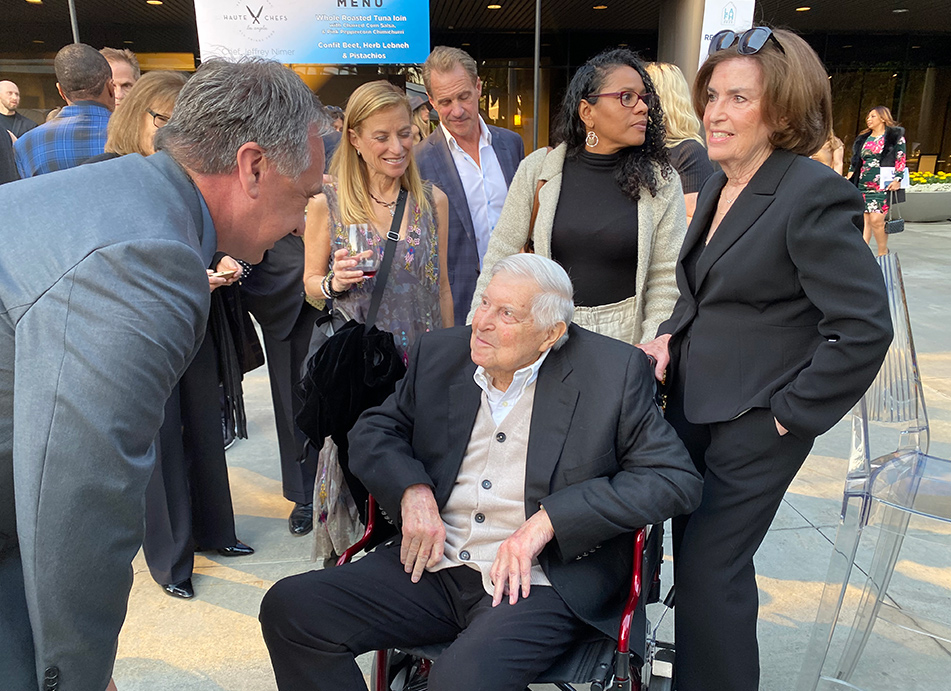 Asm. Zbur and LA Family Housing Awards Honoree Alan Sieroty and family.
---
2023 Connections for Children Betsy Awards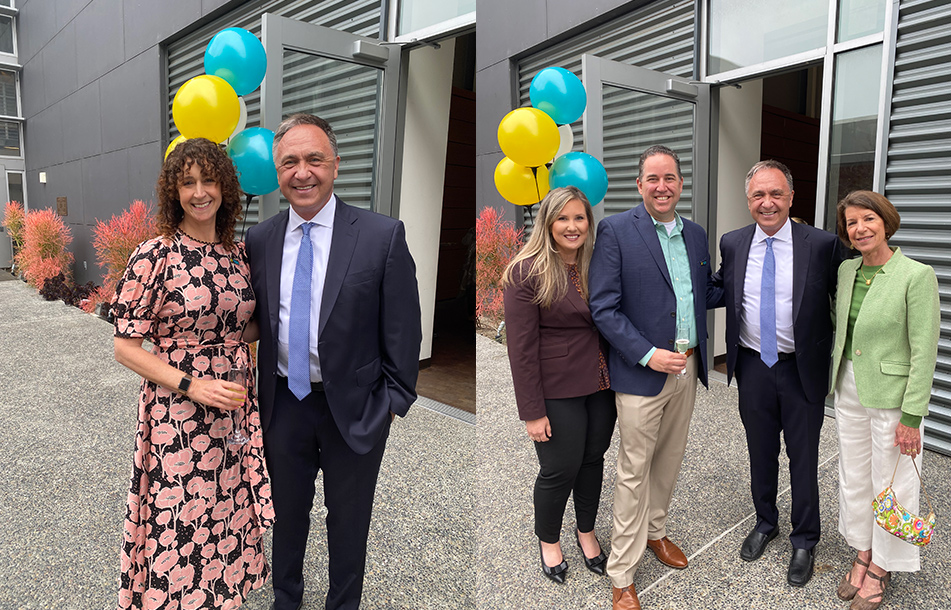 LEFT PHOTO: Connections for Children Executive Director Jennifer Cowan and Asm. Zbur; RIGHT PHOTO: Santa Monica City Councilmember Caroline Torosis, Connections for Children Board President Joe Gomez, Asm. Zbur and Santa Monica College Public Policy Institute Co-Director Shari Davis at the 2023 Connections for Children Betsy Awards Sunday, April 30.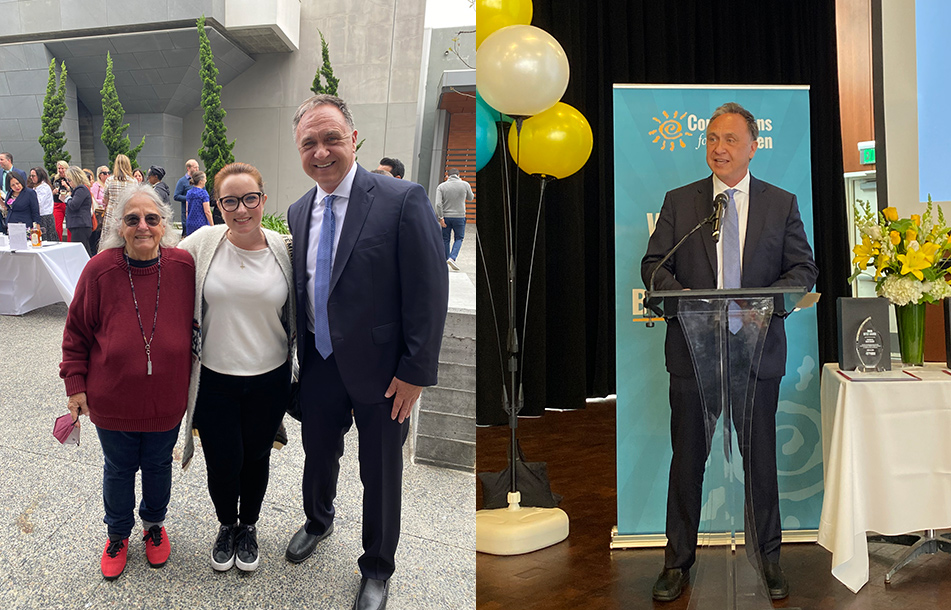 LEFT PHOTO: From left: Former Santa Monica Mayor Judy Abdo, Los Angeles County Supervisor Lindsey P. Horvath and Asm. Zbur; RIGHT PHOTO: Asm. Zbur speaking at 2023 Connections for Children Betsy Awards Sunday, April 30.
---
On the Assembly Floor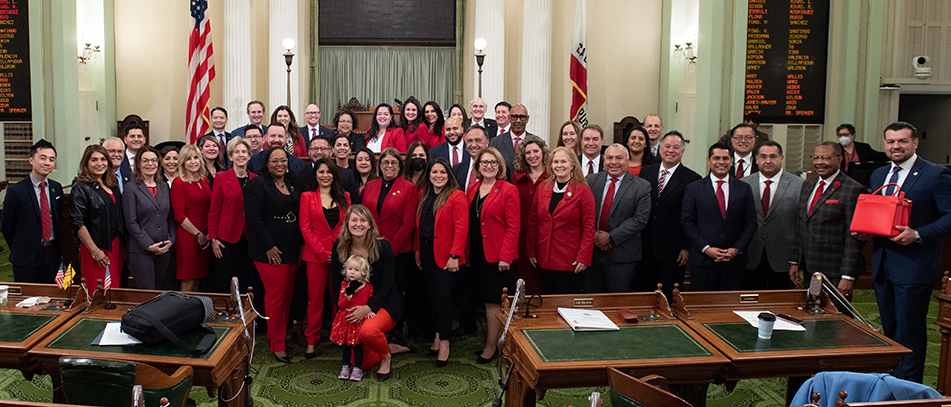 Asm. Zbur joins colleagues on the Assembly Floor for "Go Red Day" on Thursday, February 2, which brings greater attention to heart disease as a leading cause of death for Americans.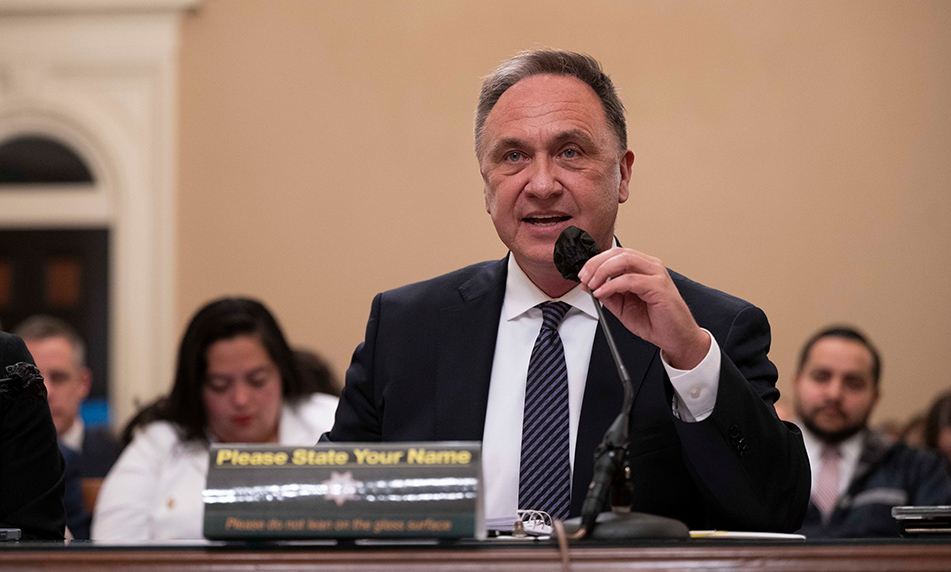 Asm. Zbur speaking on behalf of higher education on Wednesday, March 22.
---
West Hollywood Chamber of Commerce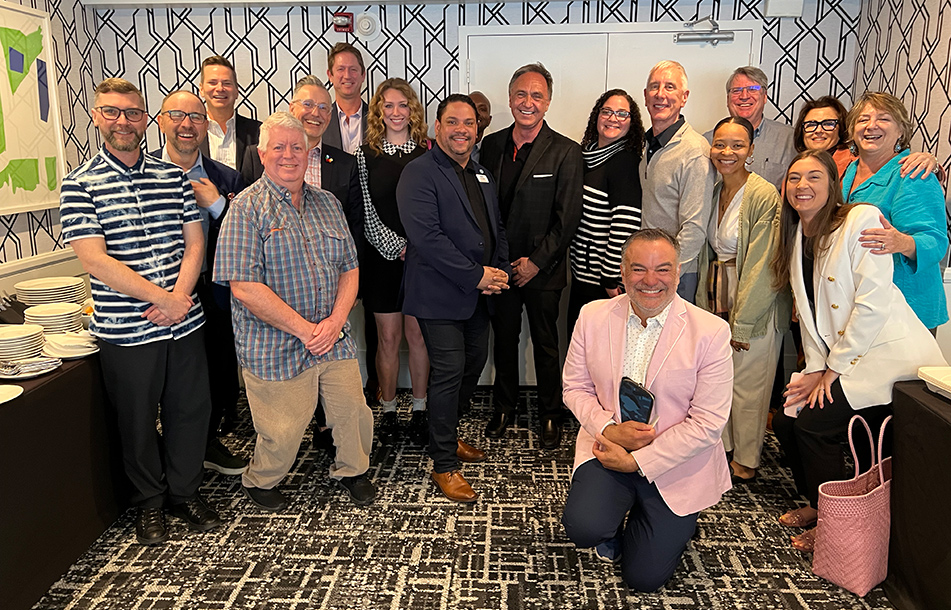 Asm. Zbur speaking at the West Hollywood Chamber of Commerce Friday, April 14.
---
Fighting for Reproductive Rights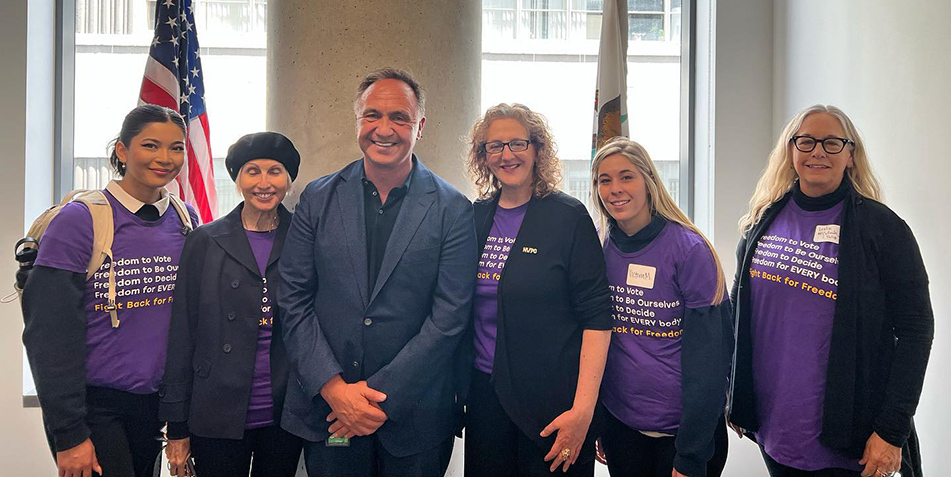 Meeting with the National Abortion & Reproductive Rights Action League (NARAL) Tuesday, May 2.